Community Links Portfolio
The Community Links Portfolio showcases the most exciting cycling and walking routes that Sustrans has built over the past five years. We were commissioned to design the entire Portfolio, from initial design concepts through to final publication in November 2016. We gave the Portfolio a bright, fresh look and feel. We packed it full of colourful photographs showing the impacts of Sustrans work, from children walking happily to school in rural Argyll to commuters cycling safely to work in Glasgow. We also used lots of lively quotes and big facts and figures to show how important Sustrans is.
Andy Keba, Partnerships Manager, Sustrans Scotland:
"Transform Creative helped us develop our project all the way from conception to completion. Their designer worked within our brand guidelines while also introducing innovative and original elements – such as infographics and icons – that made the final document attractive and easy to read. Transform were also helpful in adapting to our requests as the project developed and were responsive when our timescales tightened."
The digital showcase we developed for Community Links Plus received very positive feedback, fulfilling its purpose as a promotional item and advertisement for Sustrans' work.
Sustrans 3 year review
So widespread is the work of Sustrans, that many people's favourite memories of Scotland are thanks to its huge network of cycle paths and walking routes. When they approached us to design their ambitious Three Year Review, we wanted to capture the diversity and beauty of their work. What followed was a nationwide journey to photograph and document people who Sustrans has helped. We then designed and wrote the Review, including infographics which widely made the rounds in social media as part of the lead-up campaign for the Review's release. This marked the first time that such a publication had been commissioned by Sustrans Scotland.


Presented by Derek Mackay, Minister for Transport and Islands the report was enthusiastically received and has since helped to guide Sustrans Scotland's vision for a sustainable future.

Janice Fenny, Policy and Media Advisor, Sustrans Scotland:
"We recently commissioned Transform Creative to create a key publication for our new campaign. They were a joy to work with, diligently listening to what we wanted to see in the final design and delivering a fantastic product. Creative and efficient in equal measure, Sustrans would have absolutely no qualms about recommending these fantastic designers to others."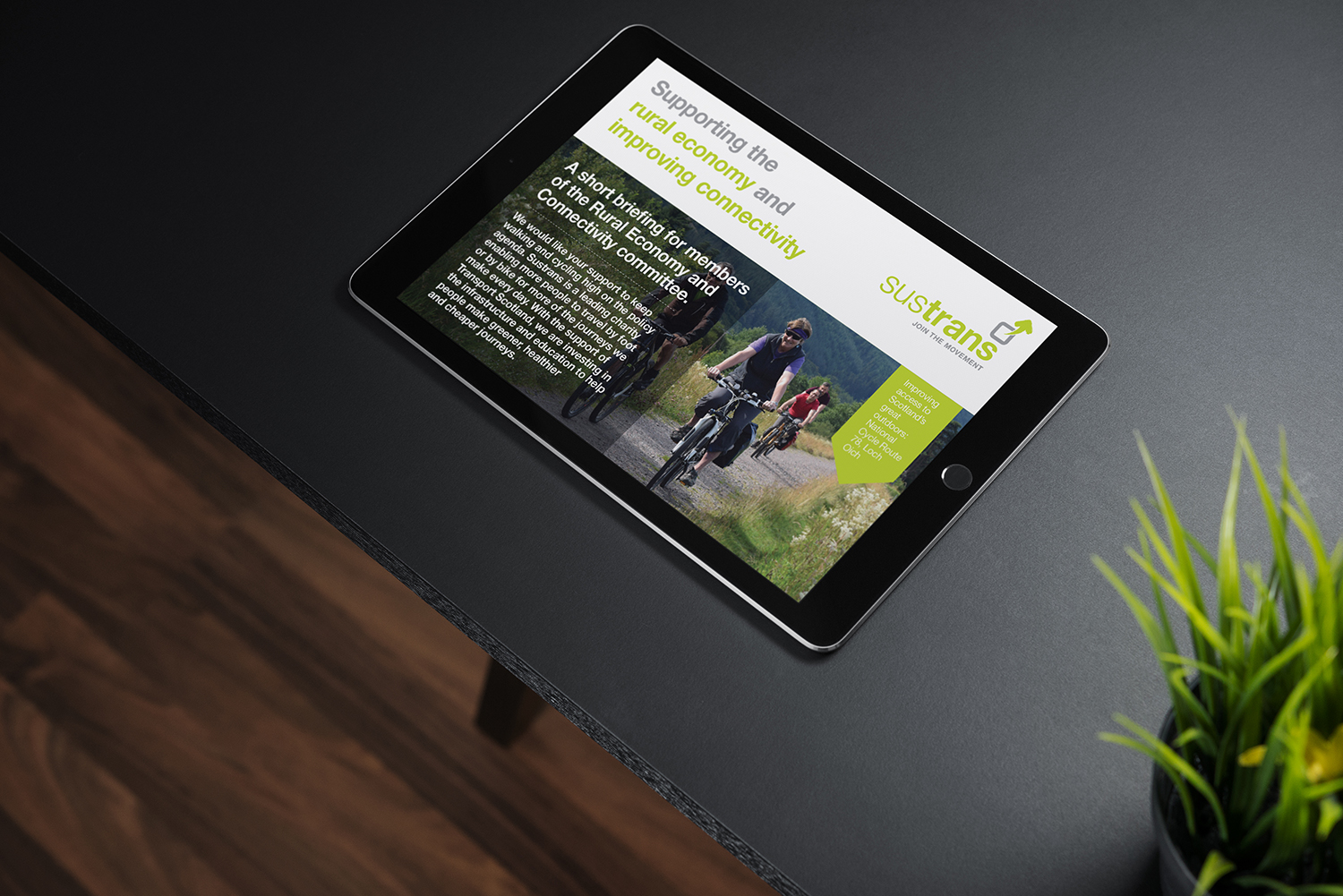 Policy briefings design
We designed the template that Sustrans use for their parliamentary briefings. The template is versatile and easily adapts for print and viewing onscreen.
Briefings have been presented to the MSPs by John Lauder, the National Director for Sustrans, and have been very well received.
Sustrans in London Annual Review
Following the success of our work for Sustrans in Scotland, we were commissioned by their London branch to design their Annual Review.